Welters is a sport played by magical schools. The game is played on a large playing field divided into squares like a chessboard but with the field slightly longer than it is wide. The squares are made of different materials like water, stone, sand, grass, and a silvery metal. The game is played by two teams (usually composed of five players) who start on both ends with the aim of capturing as many squares as possible with magic. The squares represent a different location, along with a different set of circumstances.
Welters in Brakebills
Edit
The best Welters team in Brakebills is the Physicals team who managed to beat the Natural team. The Physicals also represented Brakebills in the international Welters tournament but were defeated in all their games.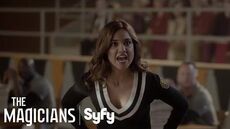 Ad blocker interference detected!
Wikia is a free-to-use site that makes money from advertising. We have a modified experience for viewers using ad blockers

Wikia is not accessible if you've made further modifications. Remove the custom ad blocker rule(s) and the page will load as expected.